Autumn is here, and isn't it wonderful? I love the crisp chill of the morning, the pile of crackly leaves at the corner gate, sweaters, long stretches on the patio as I sip my coffee and slip into the pages of a great book. And this week, I'm thrilled to have partnered with an amazing group of writers for a fall giveaway.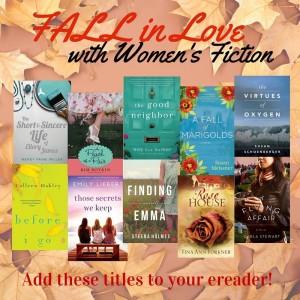 TEN Women's Fiction titles will be delivered to one lucky winner's e-reader. Here you will find some books that have grown better with a little time under their wings, a few that are new this year, and one that is brand-spanking new. All by award-winning authors! Click on the graphic to take you to the entry form. Contest ends October 22! And for all my Canadian and overseas friends – you are invited since this is an electronic giveaway.
Here's the complete list. Please stop by each author's website to learn more about us. I know we all appreciate finding new followers for our FaceBook and other social media pages, so please join us there as well.
FALL WOMEN'S FICTION GIVEAWAY
The Short & Sincere Life of Ellory James (ebook) – Wendy Paine Miller
Before I Go (ebook) – Colleen Oakley
A Peach of a Pair (ebook) – Kim Boykin
Those Secrets We Keep (ebook) – Emily Liebert
The Good Neighbor (print) – Amy Sue Nathan
Finding Emma (ebook) – Steena Holmes
A Fall of Marigolds (ebook) – Susan Meissner
Rose House (ebook) – Tina Ann Forkner
The Virtues of Oxygen (ebook) – Susan Schoenberger
A Flying Affair (ebook) – Carla Stewart
Ready to enter? Click on the graphic above or here if you like. It's super simple. Good Luck!