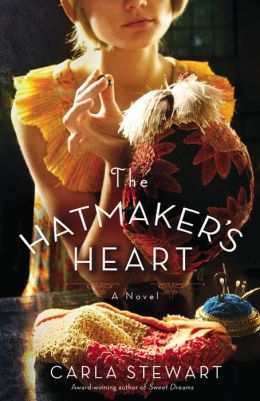 As her heart tugs in two directions, Nell Marchwold must decide what she is willing to sacrifice for her dream, and what her dream truly is.
Order Now!
About the Book
For Nell Marchwold, bliss is seeing the transformation when someone gets a glimpse in the mirror while wearing one of her creations and feels beautiful. Nell has always strived to create hats that bring out a woman's best qualities. She knows she's fortunate to have landed a job as an apprentice designer at the prominent Oscar Fields Millinery in New York City. Yet when Nell's fresh designs begin to catch on, her boss holds her back from the limelight, claiming the stutter she's had since childhood reflects poorly on her and his salon.
But it seems Nell's gift won't be hidden by Oscar's efforts. Soon an up-and-coming fashion designer is seeking her out as a partner of his 1922 collection. The publicity leads to an opportunity for Nell to make hats in London for a royal wedding. There, she sees her childhood friend, Quentin, and an unexpected spark kindles between them. But thanks to her success, Oscar is determined to keep her. As her heart tugs in two directions, Nell must decide what she is willing to sacrifice for her dream, and what her dream truly is.
FaithWords (HachetteBookGroup), June, 2014. ISBN:978-1455549948
REVIEWS
"…a rich and delicate novel that readers will love." 4 Stars from RT Book Reviews
"…with lush sensory details, Stewart brings us deep into this historical setting. . . readers will savor the sweet escape."—Julie Cantrell, New York Times bestselling author of When Mountains Move
Carla Stewart captures this time period with amazing accuracy. . . .When choosing "never-to-be-missed" writers, put Carla Stewart at the top of your list."—Kim Vogel Sawyer, bestselling author of What Once Was Lost
"Bestselling author Carla Stewart employs exquisite detail and charming characters. . . .I cannot wait to read the next one she has in store!"—Jolina Petersheim, bestselling author of The Outcast
Fans of the jazz age will cheer Nell's journey and treasure this richly-rendered taste of the Roaring Twenties."—Lisa Wingate, national bestselling author of The Prayer Box
"Deep and delightful! Carla Stewart's beautiful language, intriguing characters, and thought-provoking story are treats to savor. I loved this book!"—Sarah Sundin, award-winning author of On Distant Shores
"Set amidst the glamor of 1920's fashion, Carla Stewart has woven together a classy and sweet tale of love and new beginnings. The Hatmaker's Heart is a standout of its kind."—Joanne Bischof, award-winning author of The Cadence of Grace series
"I was swept away by the story. . .readers will love this wonderful new novel from this very gifted author!"—Carrie Turansky, author of The Governess of Highland Hall
"The Hatmaker's Heart contains love, betrayal, and family secrets–all the elements that delight fans of Downton Abbey."—Kellie Coates Gilbert, author of Mother of Pearl
"A fascinating journey into the world of couture fashion in the 1920s! "—Anne Mateer, author of A Home for My Heart
The Hatmaker's Heart draws you back in time and will make you want to bob your hair and don a cloche hat."—Lynne Gentry, author of The Carthage Chronicles series
Disclosure of Material Connection: Some of the links in the page above are "affiliate links." This means if you click on the link and purchase the item, I will receive an affiliate commission. I am disclosing this in accordance with the Federal Trade Commission's
16 CFR, Part 255
: "Guides Concerning the Use of Endorsements and Testimonials in Advertising."