Is there anything more wonderful than words and food and great company? This page is for the things that nourish us: stories, great recipes, visiting with friends. Feel free to look around, steal a recipe, or contact me.
Connecting Online:
I love to stay in touch with readers. You can email me or hang out with me at any of these spots:
Book Clubs
Reader's Guide in each of my novels to jump-start your Book Club conversations.
Skype a visit with your club.
Phone chat with your book club or "in-person" visit if we can make arrangements. Email me to plan a chat or visit.
Book Marks for your book club.
Libraries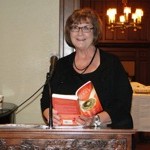 Readings from featured novel.
Participation in multi-author events.
A talk on following your dreams or a writing-related topic (pre-selected topic of your choice)
Book Signing
Women's Groups / Writing Groups
Dream Big – inspirational talk tailored to meet the needs of your group.
Book Club Discussion.
Writing topics (email me to discuss your needs)
I'm a woman who started a new career at the age of 50 – I would love to share with your group lessons learned while following my dreams.
Book Signing. Book Marks.
Novel Morsels

A fun cookbook with over 60 authors (including me) contributing their character's favorite treats from the kitchen. More than 120 recipes in one great little e-book. And it's only 99 cents! Order here.
Favorite Family Recipes
I grew up in the tradition of home cooking and supper every evening at six o'clock. I've never wanted for lack of great recipes – first from my mom, then my mother-in-law. Over the years I've tweaked theirs and added a few of my own. You're welcome to take any of these from my Baker's Dozen and make them your own. Bon Appétit! (read more)
Articles
Here are a couple of my published articles that you might like. They're both stories of my heart. Enjoy!
Boots

My first published story was this slice-of-life piece about my dad.  I didn't know much about writing titles back then, but this tells it pretty much like it is. (Read story here)
Pulling the Plug
Do you believe in miracles? I wasn't sure I did until I met Betty. Here's her story. (read here)