In five weeks, Sweet Dreams, hits the streets, but it's available now for pre-order! I'm busy setting up book signings, talks, a launch party, and some fantastic giveaways! As I anticipate the release, I have so many hopes and dreams for this book – one that has a lot of who I am in it. It's not my story or even close, but it's one that I wanted to write for a long time – a story of my heart.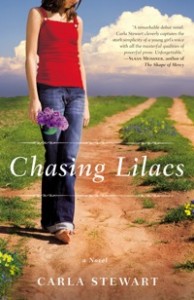 In many ways it reminds me of the dream I had for Chasing Lilacs, my debut novel – the characters I wanted to give voices to, the era that molded me into I am today, the fear I had that no one would read it. You've blessed me beyond my wildest imagination.
If you haven't Chasing Lilacs, it's being offered right now for $2.99 on Nook and Kindle. I'm not sure how long the special will run, but it's less than a Big Mac and fries and won't raise your cholesterol, so if you haven't read it, I hope you'll snag a copy and let your friends and family know.
Here's what reviewers had to say back in 2010:
PUBLISHER'S WEEKLY (Starred Review):  Stewart writes about powerful and basic emotions with a restraint that suggests depth and authenticity; the relationship between Sammie and her mother Rita, the engine that drives the plot, is beautifully and delicately rendered. Coming-of-age stories are a fiction staple, but well-done ones much rarer. This emotionally acute novel is one of the rare ones. (June, 2010)

ROMANTIC TIMES REVIEWS – 4 ½ STARS – This first-person narrative contains resolute characters and vivid descriptions of a small Texas community in the 1950′s. If her debut is any indication, Stewart has a promising future.
Much appreciation!!