THANK YOU for stopping by. The Scavenger Hunt is now over and winners are being contacted. I hope you might be one of them. Please feel free to click on the logo below to take you to the list of participating authors and enjoy their websites and books.
We do have a winner here! CONGRATS to Lindsey Z who said, "I really want to become an O.T. (Occupational Therapist) and go to China to work with orphans.

" Lindsey, I wish you much success and hope that you get to follow your dream.
Again, thank you all for participating. It's been a grand time, and you've all been troopers!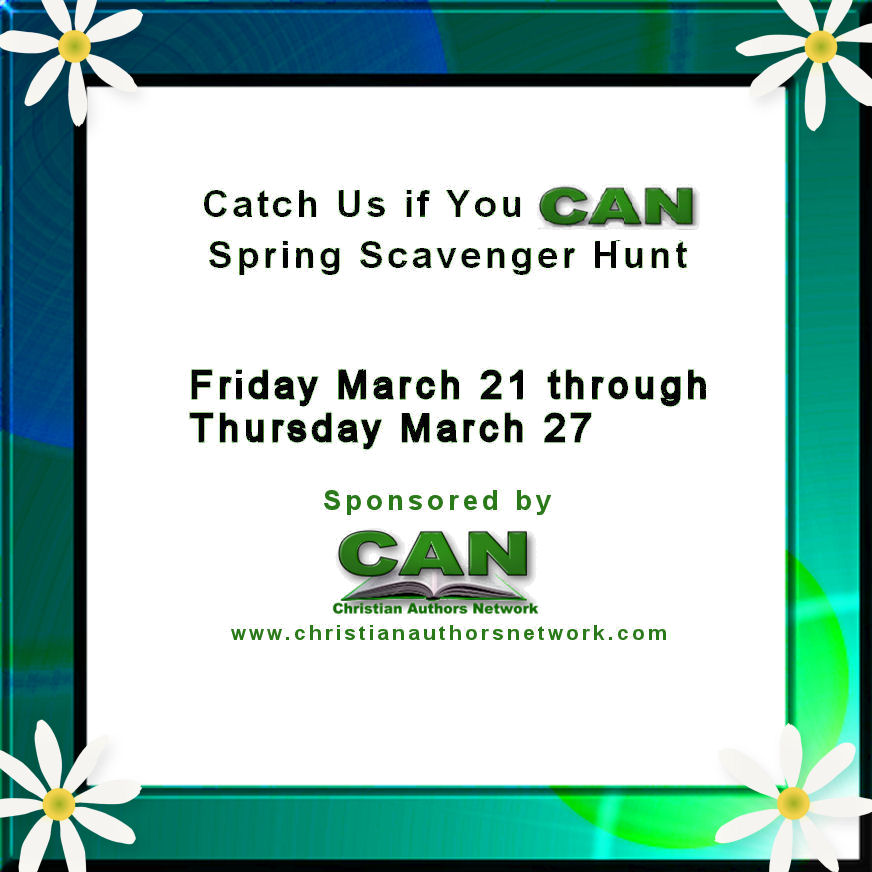 WELCOME!
We hope you enjoy meeting Christian Author Network members as you chase down clues for the chance to win our grand prize: $200 in gift cards from CBD, Barnes & Noble or Amazon, PLUS 29 free books, one from each participating CAN author!
2nd & 3rd Prized: $50 Amazon, B&N, or CBD gift certificate!

Catch us on this hunt beginning at NOON on Friday, 03/21/14 and ending at MIDNIGHT on Thursday, 03/27/14. No need to hurry as you search for clues – you have almost an entire week. If you need help at any time during the hunt, check in at the resource page here.
Gather the clues from each post, beginning at STOP #1 and ending at STOP # 29. Follow the directions and fill out the Rafflecopter form. Be ready to provide the complete clue in sentence form (gathered from the 29 stops) within 2 days of email notification or another winner will be randomly drawn. There is no need to email/submit the clue unless you are notified by 03/29/24.
Sorry, but due to international regulations and postage costs, prizes will be awarded to US Residents only. Individual contests within the hunt may vary, so please read rules presented with each giveaway.
Ready for some fun? Please welcome my guest, Sharon Srock!
GUEST SHARON SROCK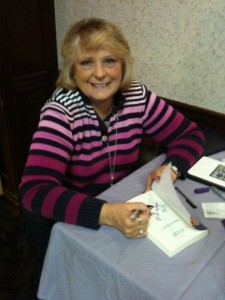 I'm thrilled to introduce you to my guest for the hunt. Sharon Srock is a fellow Okie – how cool is that? We met at a book signing in Oklahoma City a few years ago, and she is as delightful as the stories she writes.  Twenty five years ago, Sharon cut her writer's teeth on Star Trek fiction, but today she writes inspirational novels of ordinary women using their faith to accomplish extraordinary things. She lives in central Oklahoma with her husband and three very large dogs. Sharon would love for you to connect with her on her website, FaceBook, Goodreads, or Pinterest.
Her books include: The Women of Valley View: Callie and The Women of Valley View: Terri, both of which are currently available. The Women of Valley View: Pam will release in early 2014.
To introduce readers to her writing, Sharon has a couple of freebies you don't want to miss!
Free PDF (Read Only) : MEET THE WOMEN OF VALLEY VIEW
Free Novella: FOR MERCIE'S SAKE
The book that goes into the Catch Me If You Can hunt basket is The Women of Valley View: Callie
The Women of Valley View: Series Overview
Sometimes a woman needs another woman to lean on, to draw strength from, to share her secrets with. Someone who knows the dark moments of her past and loves her anyway. Someone to tell her the truth, even when it stings. Someone to pray for her. Someone to remind her that God still loves her. That's what THE WOMEN OF VALLEY VIEW do best. Women with careers and women who stay at home. Wealthy, middle class, young and old and everything in between. Women raising their families alonside of empty nesters. Women with dreams for their futures and hurts that haunt their past. THE WOMEN OF VALLEY VIEW, sisters of the heart, bound together by the ties of "forever family."
The Women of Valley View: Callie

Three dire circumstances. Three desperate prayers. One miracle to save them all.
Callie Stillman is drawn to the evasive girl who's befriended her granddaughter, but the last time Callie tried to help a child, her efforts backfired. Memories of the tiny coffin still haunt her.
Samantha and Iris Evans should be worried about homework, not whether they can pool enough cash to survive another week of caring for an infant while evading the authorities.
Steve Evans wants a second chance at fatherhood, but his children are missing.  And no one seems to want to help the former addict who deserted his family.
For Steve to regain the relationship he abandoned, for his girls to receive the care they deserve, Callie must surrender her fear and rely on God to work the miracle they all need.
Carla, here! Thank you, Sharon, for sharing about your books and being my guest on Those Were The Days. Your stories fit right in. And THANK YOU, readers and hunters who've joined Sharon and me. Ready to continue?
Before you leave my page, write down STOP #3 CLUE: of the

Got it? Wait!
Special Giveaway from me:
In addition to adding my novel Sweet Dreams to the Hunt Basket, I'm offering Sweet Dreams as a separate giveaway to those who comment here and tell me one thing you've always dreamed of doing and haven't done yet (Think "Bucket List"). You can even get your name in the hat twice if you like my FaceBook author page (and leave comment that you did).
This giveaway available for US and CANADA residents only.
Love you, dear readers, and am so happy to have to visit.
NOW, proceed to Sharon Srock's site HERE for Stop #4 and to learn about another CAN (Christian Author Network) author and get your next clue.
Good luck and God Bless!