ONSTAGE, the singing duo of Gabe and Mitzi Steiner captured America's heart for more than two decades. Offstage, their own hearts have throbbed as one for sixty years. Only now, Gabe has retreated into the tangles of Alzheimer's, leaving Mitzi to ponder her future alone.
On the other side of Tulsa, everyone believes Brooke Woodson has found the perfect man – a handsome lawyer with sights on becoming Tulsa's next District Attorney. If only Brooke felt more sure. If only her fiance could control his anger. If only love didn't come with so many scars.
When an accident lands Brooke in the hospital where Mitzi volunteers, the two women develop an unlikely friendship birthed by providence and bathed in grace. And with Mitzi's help, kindness, and insight, Brooke learns how to pick up the broken pieces of her life.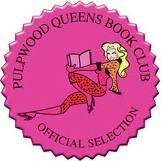 FaithWords (HachetteBookGroup), 2011. ISBN:978-0446556569
* 4 Stars RT Book Reviews *
"Carla Stewart writes powerful, beautiful, emotionally evocative stories that touch my heart. Broken Wings is no exception. I couldn't put it down." (Susan May Warren, award-winning, best-selling author of Nightingale 2009)

"A memorable story, beautifully written. Set against the backdrop of Tulsa's intriguing jazz culture, Carla Stewart's Broken Wings is a captivating intergenerational tale of friendship, love, and music that surpasses the boundaries of age and time." (Tina Ann Forkner, author of Ruby Among Us and Rose House)

"A relevant story that explores the beauty of friendship as well as the heartache of abuse. Carla Stewart is an engaging storyteller." (Susan Meissner, author of The Shape of Mercy)

"With apt descriptions and artful prose, Stewart delves in the vibrant, jazzy 1940s, at the same time creating a true-to-life present. Moving between the two time periods, readers discover what everlasting love is, and how strong a woman must be to recognize it." (Christina Berry, award-winning author of The Familiar Stranger)

"I smiled through my tears as I read Broken Wings. Those of us who have been abused can cheer for Brooke, who stands up and fights with what she has: friendship and the love of God. Keep writing Carla. We need the voice of hope. (Shelley Adina, author of the All About Us series)

"Carla Stewart writes with tenderness, insight and a tremendous amount of heart. Reading her stories emotes the same familiar comfort as curling up in a childhood blanket or laying your head on your mother's lap. This gifted storyteller has a fan in me." (Gina Holmes, best-selling author of Crossing Oceans)
Available at Amazon, Barnes & Noble, ChristianBook.com or a bookstore near you.