Sorry I've been absent this week. I'll take a detention. The truth is, sometimes you just have to get away. And what better excuse than speaking to a group of writers? And then tacking on a four-day vacation. Well worth a detention and then some.
The Siloam Springs Writers invited me to speak at their fall workshop a while back, and I jumped at the chance. I'm trying to take on more speaking engagements and I'd never been to Siloam Springs. It's a mere hour and a half from home, and how I've missed this jewel of a town baffles me. It's like something from a picture book with hills and bluffs and trees and a river meandering through downtown with inviting park benches. Main Street (Broadway) was like stepping back in time with a corner cafe and lamposts. Siloam Springs is also the home of John Brown University which has a breathtakingly beautiful campus.
We had a lovely turnout at the workshop, and it was fun meeting the authors of the contest entries that I'd judged prior to going. I used snippets from the entries as examples in my presentation. It was fun to find out who the wordsmiths were. Here are a few shots from the day.
Two hours after the workshop, we were checking into a hotel in Branson. Another first for us. I put out a query on FaceBook asking for recommendations for "must see and do" while doin' Branson. You guys really came through. How else would we have known about the 24 Karrot Cake or Shoji Tabuchi, the Japanese fiddle player or Mel's Hard Luck Diner at Grand Village?
We found the outlets, but passed on the zip lines and the thrift stores. We took in several shows and loved the Titanic museum! I also went to the toy museum while Max played a round at Payne Stewart Golf Club.
Moral of the story: Take a bucket full of cash and trust your friends to steer you in the right direction. A much-needed time of relaxation.
Some house keeping: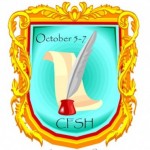 The Grand Prize winner of the Christian Fiction Scavenger Hunt was Ginger Solomon!! Congrats for a job well done. The participation was fantastic, and we all had fun.
The winner of a copy of Stardust and the B&N Gift card giveaway on my separate contest was Ladette Kerr. Thank you, Ladette, for playing along. Hope that you and Ginger both have worlds of fun with your prizes!