This title is actually somewhat of a misnomer as Stardust has shipped early from some outlets and has been spotted in a few Barnes and Noble stores already. My author copies are here, and so it begins. May 15 is the actual release date, and that's when the real hoopla gets rolling. Early reports are fantastic. Some sweet reviews.
This week I'm excited about being featured at Overcoming Through Time . . . With God's Help. Carrie, Diana, and Marian make quite a team there, and you can read an interview, a review of Stardust, and a review of Broken Wings. Join us there and comment on the posts to be entered in a drawing for your choice of one of my novels.
Also, this week, ACFW has been so kind and interviewed my as their featured author this week. I loved visiting with Becky Jacoby – such a nice gal!
I'm starting to love this author thing, you know. On Tuesday night, the local chapter of Fellowship of Christian Writers invited me to speak to them about writing nostalgia – I could do that all night, but they did limit me to an hour and were the best audience. Really loved this group; there's just something extraordinary about being with other writers. Here are a few "fuzzy" pics from that night. Next time I will take the good camera.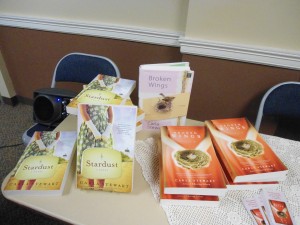 Life can be a juggling act sometimes, it seems. Another anticipated event – and one that to me is much more important than having a book published – is celebrating family and their accomplishments. Last weekend my dad was the Parade Marshal for Pioneer Day in Guymon, OK. What a weekend it was! I hope to have a post up before Friday about that.
In the meantime, how do you handle a busy life? Anything new that you're celebrating?