Last weekend I had the privilege of being the visiting author at the Olive Warner Memorial Library in Hooker, OK. It's just a tiny town in the Oklahoma Panhandle, but my grandparents went to church there when I was a child, and one of my great uncles and his wife lived there many years so it wasn't totally unfamiliar. What set this book signing apart was that my visit coincided with the annual Hooker Car Show. The event has been gaining in momentum the last few years, but it still had a small town festival feel to it. The streets downtown were roped off and cars from times gone by lined the thoroughfare. It was a crisp fall day with crayola blue skies and the smell of funnel cakes in the air. People ambled along the sidewalks, stopping to chat with one another. Mothers pushed sleeping babies in strollers while others sat on the curb and enjoyed a hot dog or a bierock washed down with fresh made lemonade. Every half hour, a loud speaker from the corner would announce the latest winners of the raffles from the various booths and who'd just won a hundred dollars.
My table was set up on the sidewalk outside the library so I was able to chat with people who happened by. Little boys would linger by the table and look over the bookmarks the librarian had given me with race cars on them. Book lovers would pull up a chair and sit to talk for a spell. It was a delightful day as I shared about my books and learned from them who their favorite authors were. The pace was slow, the conversations lively. Thank you, Carolyn Blackwelder, for inviting me, and thank you, Rachel Sides, for recommending me and then coming to keep me company while Max enjoyed the car show.
And then, there were the cars!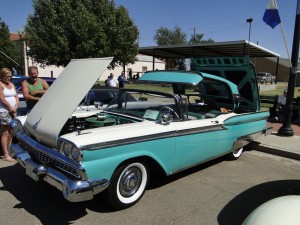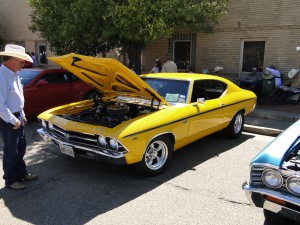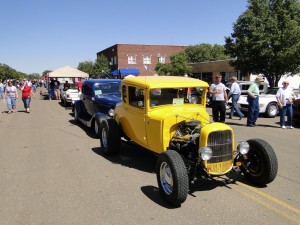 One last thing – the winner of Kellie Coates Gilbert's debut novel, Mother of Pearl, is . . . drum roll, please . . . Nancy Farrier!! Congrats, Nancy! I know you'll enjoy Kellie's book. And for the rest of you, it's still at a nice price right here.
I'm off to the ACFW conference in Dallas next week and am very excited about seeing both my agent AND my editor and all my writing buds that I only see once or twice a year! Can't wait.