Cream of the Crop
They were originally called the Happy Helpers – the Home Demonstration club of my mother-in-law, Dorothy's rural county. One of several such groups in the area, they met once a month and took turns presenting "lessons" they received from the County Extension office – lessons in cooking, sewing, canning, parenting, and so on. The women were friends and a lifeline to each other as they navigated the rigors of being farm wives, mothers, and good citizens. And they were competitive!!!
Every fall when it was time for the county fair, each club put together an exhibit and competed for bragging rights of being the best club in the county. To be eligible, their exhibit had to be complete – one item from each of many categories – be it sewing, knitting, canned vegetables, canned jellies, canned pickles, garden produce, individual flower stems. Each of the dozen or so women in the club were adept in many of the categories, but they all had their specialties and could be counted on to produce an item that might garner the coveted ribbon – "Cream of the Crop." Enough of those ribbons, and the club had a shot at being the winning club for the year.
Dorothy was an amazing gardener whose flawless tomatoes, cucumbers, squash, and other vegetables often stood above the rest. Her Sweet Lime Pickles had the perfect crisp green color, and she sometimes arranged them in  jars in alternating layers giving a lattice effect that was lovely. Her apple jelly was rose tinted and as clear as glass when held to the light. Of course she brought home many Cream of the Crop ribbons that contributed to her club's numerous wins over the years.
More than forty years ago, Dorothy welcomed me into the family and treated me like a daughter just because I married her son. I wasn't always worthy of that distinction and could have done better, but I'll always be thankful for the things she passed on to me besides her son – her gardening tips, her recipes, her stories, and her love of being who she was – a dedicated and fulfilled farmer's wife and mom.
When we had three pre-school boys, we moved back to the community where my husband grew up, and Dorothy instantly invited me to go to "club" with her. By then the women had changed their name to Gray Club (for the community they best represented), and I had the pleasure of adding my feeble efforts to the county fair exhibit each year. More than that, though, was the feeling of being in the bosom of family, sharing in the way of life Dorothy held dear.  She was not only my mother-in-law, but also my friend and a model for what a gracious woman looks like.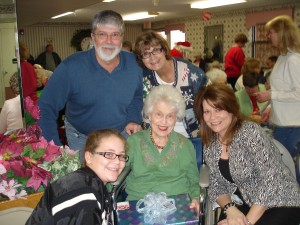 Dorothy grew up a farm girl during the Depression which gave her a resilience and strength of character often found in that generation. Not only was she an expert gardener, she could sew like a breeze and loved modern furniture and the latest gadgets. But what she will always be remembered for is her cooking. Tables laden with homegrown and home cooked food. That and the wide smile that graced her face and laughter that held on until tears rolled down her soft cheeks.
Last January, Alzheimer's stole her away from us. Not a day has gone by that I've not thought of her. Today she would have turned 93 years old. Heaven is better for her presence, but for those who remain, there is no doubt – she will always be Cream of the Crop.